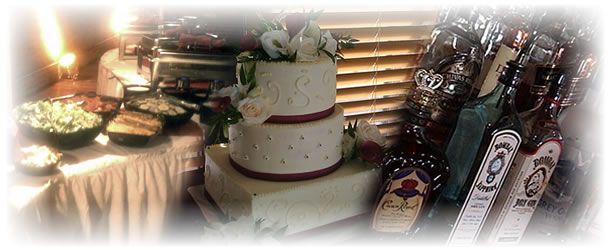 Wedding Receptions and Special Event Catering
Grafton Peek is the exclusive or preferred caterer at a variety of Greenwood and Indianapolis-area venues an is available for breakfast, lunch and dinner events.
Visit all of our exclusive and preferred locations by clicking on the Venues hyperlink above. Ceremonies and receptions are hosted at each of the locations.
On each venue's information page you will find links to our food & beverage services under Featured Links- click on the links to see our print-friendly menus with pricing.
All of the venues that Grafton Peek caters offer unique ceremony locations including waterfalls, fountains and elegant landscapes. The recently updated & historic Grafton Peek Ballroom in Old Towne Greenwood provides large windows, hard-wood floors and brass chandeliers as part of its unique charm.
In addition, Grafton Peek will cater to the location of your choosing across central Indiana.
Corporate Catering and Food Service Management
Grafton Peek provides event services for some of the finest corporations in Indianapolis and central Indiana.
Grafton Peek ensures our corporate clients happiness by always being on time and providing excellent food at a price that suits their bottom line.
24-hour catering services are available to our corporate clients as well as cafeteria and total-facility food service management. The chefs at Grafton Peek create unique menus for our corporate clients and gladly prepare culturally specific menus whenever requested.
Grafton Peek will deliver and organize complete catering and related services at the event location of your choice throughout central Indiana.
Our Nutrition First healthy living initiative seeks to assist our corporate clients in creating unique, heart healthy menu alternatives that reduce the calories but not the flavor.
Soft Drinks and Bar Services
Bar services are provided by Grafton Peek for up to four hours – Events requiring bar services for more than four hours will be charged per additional hour.
Grafton Peek Catering provides a complete range of bar services for groups needing adult libations with their catering.
Unless otherwise noted, in compliance with Indiana State Law, all alcohol at the event must be purchased from Grafton Peek, Inc. and provided by its staff. Event guests are not allowed to bring alcohol to the event from any other source. Grafton Peek Catering and its staff reserve the right to discontinue alcohol service to disruptive or visibly impaired guests.
Live Music, Entertainment, Photography & More
Interested in having entertainment at your event or reception?
Grafton Peek provides a complete selection of excellent DJ / MCs, live music, audio / video production and more.